SCIS2022 has successfully completed its entire schedule, and we would like to express our gratitude to all participants and related parties for their cooperation in making the event a success with the largest number of participants in our history, over 947 people.
 SCIS 2022 had taken a variety new initiatives for online conference. ( the chairperson's seminar, the etiquette seminar, the hybrid event utilize zoom and vimeo, and the collection of slides in advance. ) We hope those initiatives had made SCIS a memorable event for everyone.
 The distribution of the SCIS2022 Proceedings will be for attendees only and will not be for sale. We also donated the surplus refreshments to the Ibaraki City Children's Nurturing Association and the Sakai City Council of Social Welfare. We would like to report here.
SCIS2022 Organizing Committee
Latest Updates

―新着情報―
Jan. 16, 2022

Attendee's Portal Site is now open. Check a email.

Jan. 12, 2022

Update about a part of Program, and Session Table is now open.

Jan. 12, 2022

Update the important information about the Banquet and Night Session .

Jan. 11, 2022

Update about Program and WEB Abstract is now open.

Jan. 7, 2022

Update about Night Session submission.

Jan. 6, 2022

Procedure for changing the participation venue (On-Site/Online) has been posted.

Dec. 16, 2021

Program(tentative) is now open.

Dec. 13, 2021

About Measures to prevent infection at the On-site venue (Osaka International Convention Center).

Dec. 12, 2021

Updated information about the banquet special stage.

Dec. 1, 2021

SCIS2022 is now open for registration.The application for the presentation has been closed.

Aug. 31, 2021

The official website for SCIS 2022 is now online. (Only schedule and info)
About SCIS 2022

―ご案内―
Key information
Title
2022 Symposium on Cryptography and Information Security
Event format
On-Site/Online hybrid
On-Site venue
Osaka International Convention Center (Osaka Pref.)
Dates
January 18-21, 2022
Organized by
IEICE Technical Committee on Information Security (ISEC)
In cooperation with
IEICE Technical Committee on Biometrics (BioX)
IEICE Technical Committee on Information and Communication System Security (ICSS)
IEICE Technical Committee on Hardware Security (HWS)
Computer Security Groups of Information Processing Society of Japan (CSEC of IPSJ)
Conference scope (non-exhaustive)
Theory of Cryptography, Public-Key Cryptography, Common-Key Cryptography, Cryptographic Protocols, Secure Computation, Physical Cryptography, Post-Quantum Cryptography, Network Security, Web Security, System Security, Automotive Security, Hardware Security, Side-Channel Attacks, Content Protection, Security Evaluations, Privacy Protection, Biometrics, Blockchain, Educational and Psychological Issues, AI Security td>
This symposium has been held annually since 1984, as a venue for presenting and exchanging ideas about the latest research results in the fields of cryptography and security. For the 2022 edition, we are soliciting paper submissions for regular presentations. A list of topics is provided above, but it is non-exhaustive: papers on all aspects of security are welcome (there is no selection by peer review).
Manifest for COVID-19

― 新型コロナウィルス対策について ―
SCIS2022 will take measures to prevent infection at the On-site venue (Osaka International Convention Center) in accordance with the request from Osaka Prefecture. SCIS2022 has prepared the "Infection Prevention Checklist" which describes the infection prevention measures as follows. We would like to ask for your understanding and cooperation the measures for on-site participants.

*1 : Click on the image to view the all pages. (Only Japanese)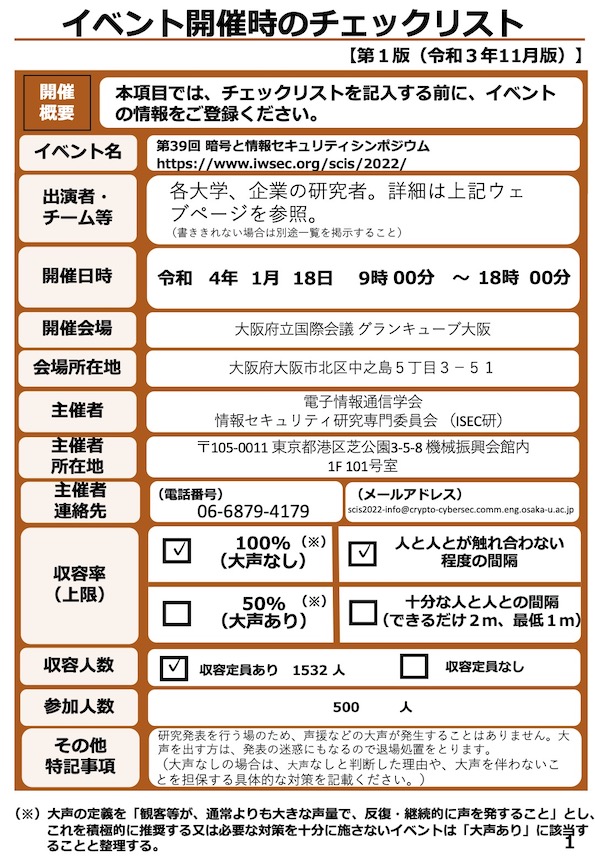 Organizing Committee

―組織委員会―
Chair
Atsuko MIYAJI

Osaka University



Vice Chair
Hideki MATSUSHIMA

Panasonic Corporation



Program Chair
Committee Members (Tentative)
Akira KANAOKA

Toho University




Atsuo INOMATA

Osaka University




Chen-Mou CHENG

Kanazawa University




Daisuke KOTANI

Kyoto University




Hideyuki MIYAKE

Toshiba Corporation




Hiroshi KOIDE

Kyushu University




Kazumasa OMOTE

University of Tsukuba




Keita EMURA

National Institute of Information and Communications Technology




Masaaki SHIRASE

Future University Hakodate




Masaki INAMURA

Hiroshima City University




Masaki SHIMAOKA

SECOM Co., Ltd.




Naohisa NISHIDA

Panasonic Corporation




Naoto YAUCHI

Osaka University




Ryoma ITO

National Institute of Information and Communications Technology




Ryotaro NAKATA

Hitotsubashi University




Shingo YASUDA

National Institute of Information and Communications Technology




Shinya OKUMURA

Osaka University




Takashi HATASHIMA

Nippon Telegraph and Telephone Corporation




Takeshi CHIKAZAWA

Information-technology Promotion Agency, Japan




Takuho MITSUNAGA

Toyo University




Tatsuo MITANI

Mitsubishi Chemical Systems, Inc.




Tetsushi OHKI

Shizuoka University




Tetsutaro UEHARA

Ritsumeikan University




Tomoaki MIMOTO

Advanced Telecommunications Research Institute International




Yoshiaki SHIRAISHI

Kobe University




Yuji SUGA

Internet Initiative Japan Inc.




Yuji UNAGAMI

Panasonic Corporation




Yuntao WANG

Japan Advanced Institute of Science and Technology




Yuuki TAKANO

Osaka University